Black Button Distilling Turns to its Farm to Grow its Business
By Arien Rozelle
Special to Grassroots
This summer Black Button Distilling is celebrating ten years of crafting grain to glass craft spirits in Rochester, NY. As a New York State Farm Distillery, more than 90% of Black Button Distilling's ingredients are grown or produced in New York State. From the water they use, which comes from the Genesee Valley aquifer, to the grains from nutrient-rich soil at Edgewood Farms in Groveland, the bounty of this state is reflected in each of their spirits.

Jason Barrett is the Founder/Master Distiller of Black Button Distilling, the first craft distillery in Rochester, NY since Prohibition, and a member of the Ontario County Farm Bureau Board.

In 2018, Barrett opened Black Button Farm and Forestry, a 19-acre farm located in Bristol, NY, to grow bespoke ingredients for our spirits and cocktails. The creation of Black Button Farm and Forestry was a monumental step forward.
Located i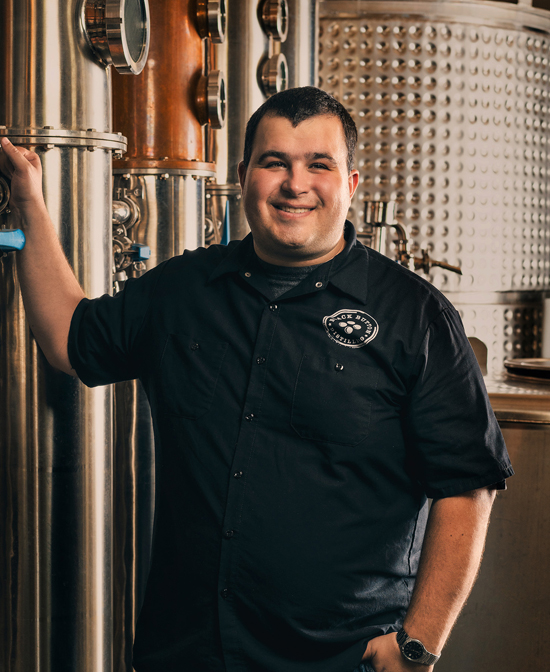 n the heart of the Finger Lakes, Black Button Farm and Forestry set out to grow juniper for gin, white oak to make barrels for distilling, fresh herbs and spices, and organic honey for cocktails. All plants and trees were sourced locally either from the state nursery in Saratoga or from Broccolo Tree and Lawn Care, a Rochester, NY-based business that has long supported New York State agriculture.
To date, Black Button Distilling has harvested 11 oak trees, quarter-sawn them into staves and are air-drying them. Soon, they will be turned into barrels for their all-New York Bourbon. They have beehives for local honey and a long-term plan to put up a greenhouse growing a variety of botanicals.
The Many Variables of Making Gin
Working with natural products always adds a level of unpredictability. Will there be enough sunshine, too much, or too little water? Will some unknown pest ravage your crop? Nowhere is this more prevalent than in the flower petals needed for making gin. In order to release it in time for the opening night of Rochester's Lilac Festival, flowers must be force bloomed in a greenhouse a few weeks before they would naturally come to fruition. And each year the weather and other variables combine to make a unique flavor profile that we have to compensate for.

Following the success of Lilac Gin, an homage to Rochester, the distilling company has set out to create a series of craft gin blends made from locally-grown ingredients. The most recent was a gin for a liquor store on Martha's Vineyard that incorporated wild-grown beach plumbs into its flavor profile. Barrett worked with the store to understand what cocktails the gin should work well with and then how to make it have the sense of place for their local environment.

The company's next adventure is to develop a fresh-picked juniper gin, which can only happen if the juniper is grown near the gin source. You may be familiar with the concept of wet hop beer that some local breweries are now making. It's where they pick the hops and brew with them the same day, resulting in a fresh and herbaceous flavor that is not possible with freeze-dried ingredients. The distillery wants to replicate that process, with juniper for its gin, which we hopefully create a one-of-a-kind flavor profile.

Two kinds of juniper can be used to make gin: Juniperus communis and Juniperus virginiana (also known as Eastern Red Cedar). Both grow well in our area but are not commercially harvested in North America due to the cost of labor. The company is attempting to modify a blueberry picker to make the process easier. If it works, one could basically comb the tree and collect the berries instead of trying to pick them one at a time.
Spirits making takes patience, years of training, hard work and a bit of luck.
Gypsy Moth Invasion
Unfortunately, the gypsy moth infestations of the last few years negatively impacted the farm. The company was at the very epicenter of the outbreak. Where a normal year they would have 10,000 moths per acre, it wa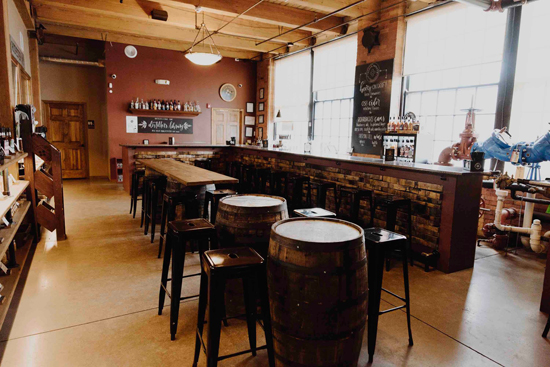 s estimated the distillery was at over six million moths per acre. Juniper is deer resistant but if gypsy moths chew up everything else, the deer will eat them. Additionally, juniper can't be planted within 500 feet of apple trees or they will both perish as they are intolerant of each other.

This summer, Black Button Distilling is celebrating a decade of crafting grain-to-glass craft spirits. A New York State Farm Distillery, Black Button Distilling is the first distillery in New York to obtain the New York State Grown and Certified status for commitment to locally sourced ingredients and high standards of quality. It was named New York Distillery of the Year (2016 and 2021) at The New York International Spirits Competition.
Photo captions:
Jason Barrett is the founder/master distiller of Black Button Distilling.
Black Button Distilling has produced more than two million bottles of spirits.

Click the play button below to hear an interview with Jason Barrett on NYFB's new podcast NYFB Bytes.