Collins Farm Enjoys Direct-to-Consumer Success Through Self Processing
Director County Farm Bureau Relat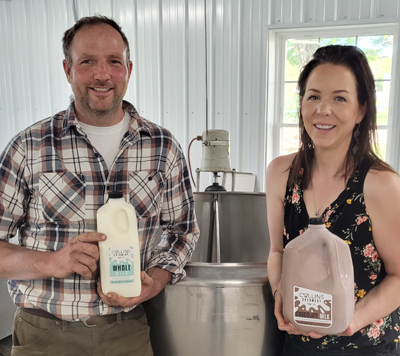 ions and Development
John and Sammi Collins, owners of Collins Farm and Creamery LLC, along with their sons, Cody, age five. chief farm equipment operator and Charlie, age two, lead quality control specialists for cheese curd production have been selling their milk through the Dairy Farmers of America (DFA) Cooperative since they began their farming operation in 2010. Although, this business venture may never have come to fruition if not for the heroic efforts of Dr. Richard Withinton, a surgeon who saved John's leg in January of 2000.
It was that frigid winter day in when John, a high school student at the time, slipped on ice and was entangled in a manure auger. After being air lifted to Watertown, John spent the next six weeks in a hospital bed fearing that his leg may have to amputated. Dr. Withinton, felt like he could save it. If not for this doctor the Collins' story may have never turned out the way it has so far.
John, who will tell you that his love of farming was instilled in him by his father after a long hard recovery, was able to graduate from high school, attend college at Morrisville and meet his future wife Sammi. The couple, after working at various other farms across New York, purchased their current farm property in 2010.
After continual internal herd growth, the Collins Farm is now is milking 165 cows and cropping 650 acres in and around the city of Rome.
It was in March of 2020 as COVID-19 was starting to become prevalent that the DFA Cooperative implemented a quota program that promised to pay the farm for only 85% of its current milk production. At this time John and Sammi began to research ideas on how the farm could utilize the remaining 15% of production for direct-to-consumer sales. Their first idea brought them to bottling the milk for direct-to-consumer sales of fluid milk. The couple was able to locate a co-manufacturer; Black River Valley Naturals, a micro-creamery and producer of small-batch artisanal foods about 30 miles away, who would pasteurize and bottle the milk.
Sammi, using her background as the former Director of Nelson Farms at SUNY Morrisville, an FDA inspected food processing facility, began to develop branding materials for their products that would eventually be sold under the Collins Farm and Creamery label.
After the initial offering of fluid milk products, the couple began to broaden their product offerings to include cheese curd, farm-raised beef, and frozen sweet corn to their farm store.
As the business grew, the Collins realized that they could no longer continue to grow their direct-to-consumer business, spending as much time as they were travelling back and forth to the co-manufacturer. So began the process of moving production and processing of products to the farm. After months of planning and preparation, the construction of an on-farm processing and packaging center began in August of 2021 and is slated be online and operational this month — no better way to celebrate as June is Dairy Month!
Outside Assistance was Crucial
The Collins family have been blessed to be able to lean on many individuals and agencies for assistance in the development of their farming operation and dairy products processing business. Robert Harrington is one such individual. Harrington who had a career at the New York State Department of Agriculture and Markets for more than 30 years has brought his wealth of knowledge to the operation at the Collins-lead dairy consultant for on-farm processing.
Another key component of their business growth has been their relationship with SUNY Cobleskill. The college has partnered with the family on product development and technical assistance issues, assisting in developing key SOPs (standard operating procedures) for the production of products.
The Center for Agricultural Development and Entrepreneurship (CADE) has also been a key cog in the development of the on-farm processing dream. The farm was recently selected as one of 10 businesses in the Mohawk Valley to participate in the Farm and Food Business Accelerator Program through CADE.
This partnership will assist in business planning, marketing strategy, branding of product along with offering peer mentoring services and financial advisory services. Local Oneida County agencies such as Cornell Cooperative Extension and the Oneida County Soil and Water Conservation District have also been equally important in the farms continued success and growth.
Showing Consumers the "Why" in Their Operation
Sammi believes that one of the keys to the farm's early success into direct marketing is the use of a key principle she learned long ago from her father: "People Buy from People." It is this thought process that is the cornerstone of the farm's social media and marketing, attempting to show consumers their daily life on the farm, showing the consumer their "why." John and Sammi, like many farmers, will tell you that their "why" is their kids, their family, and the dairy farm lifestyle.
FOR MORE INFO:
To learn more about Collins Farm and Creamery, check them out on Facebook and Instagram.