Monroe County's Howlett Farms is One-Stop Shop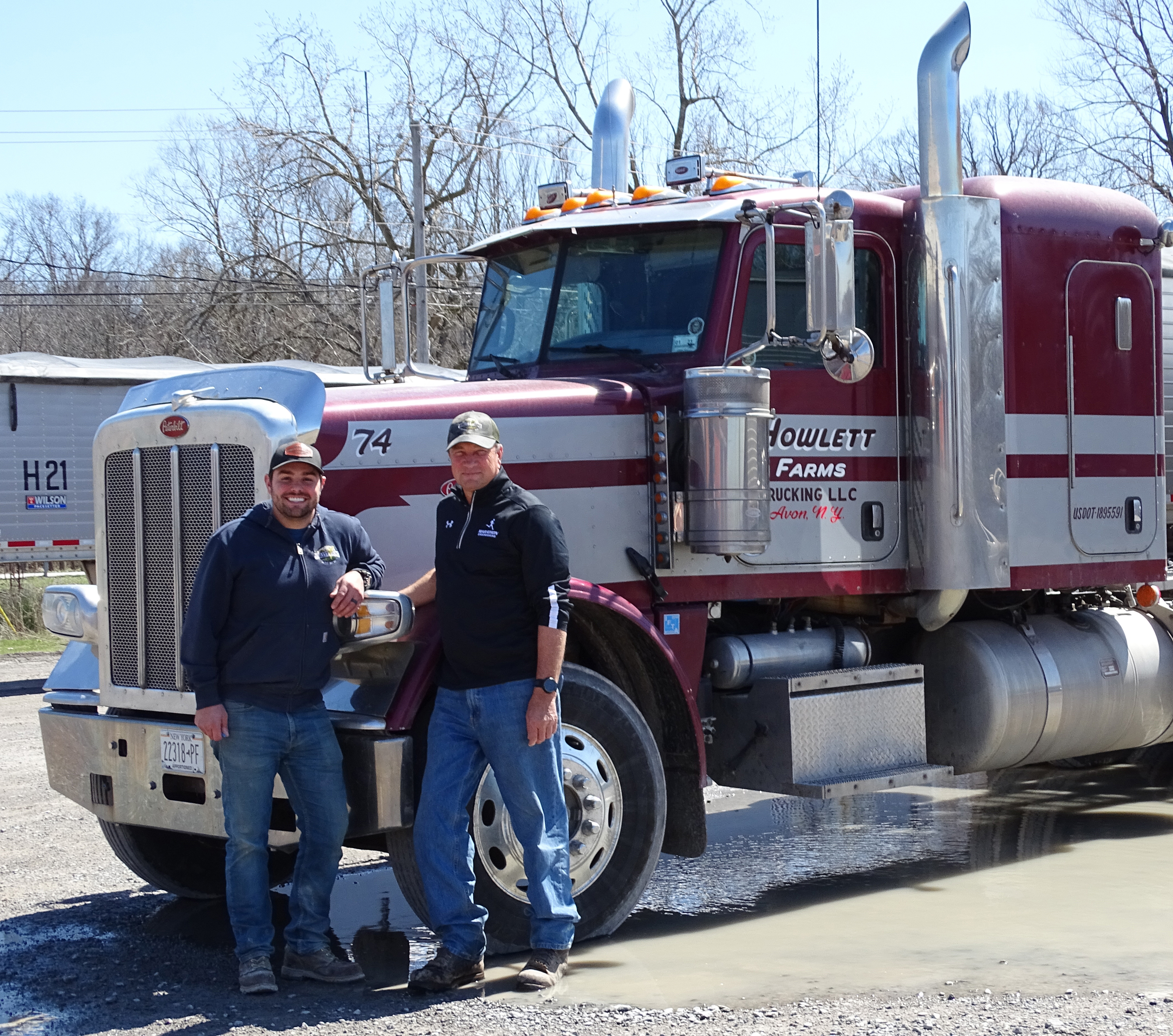 By Pam Zwolinski
NYFB County Support Representative
Howlett Farms has been in the business of farming since 1880 when Charles Howlett started with 13 acres and two milk cows in Monroe County. Four generations later, Bruce Howlett moved their operation to Avon, NY, and with his son, Michael Howlett (fifth generation), he has expanded the company from one location cash cropping to a state-of-the-art grain facility and office headquarters in Avon and feed processing facilities in Batavia and Geneva. They now have a fleet of 22 trucks, 49 employees and 3,700 acres, raising corn, soybeans, wheat, and cover crops. Faced with plenty of challenges along the way, the family motto has always been, "Choose to move forward, put your whole heart into it, and never look back". This approach has shown the Howlett's how to seize every opportunity and innovate for five generations.

In 1991, the barns at the Avon location, which Bruce had purchased only three years earlier, were lost to a fire. Michael says, "I remember standing in my driveway watching my dad run into the burning barns to drive out our equipment. Dad decided to rebuild, adjust, and move on from there". Like always, move forward and don't look back.
Shifting to Grain
In the late 1990s, they were presented with another opportunity to move forward. The decline of Agway and the loss of a large local consumer caused a shift in the marketplace that significantly inhibited local farmers' ability to move grain. These events helped to solidify Bruce's focus on creating a supply chain dedicated to helping local farmers get their grain to market.
2,240 Tons Delivered Daily
Howlett Farms currently works with over 100 end-use customers, from flour and feed mills to ethanol plants and exporters. The additions of trucks in the early 2000s and rail capacity in 2008 have helped to increase efficiency which allows Howlett Farms to offer local farmers more competitive pricing and a variety of options no matter how the market may fluctuate. Access to more and better markets along with the ability to reach distant end-users by consolidating the source of product means they can achieve the farmer-dedicated supply chain Bruce imagined. Michael comments that they "...want to be a one-stop shop for area farmers in the grain market". So far, they have been successful as they average 64 deliveries of grain or feed per day, with most loads weighing approximately 35 tons.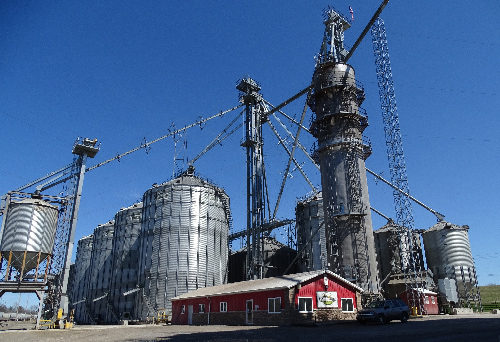 In 2019, they entered the feed business. Noticing a need for more digestible feed, specifically for dairy cows, the Howlett's purchased two feed processing facilities with the capacity to produce a variety of animal feed products. Their process works to increase feed surface area and make it easier for cows to digest. End products like cornmeal, processed in Batavia, and mixed feed, processed in Geneva, are delivered to other feed mills for inclusion in their mixes or directly delivered to dairy farms. "This has been a great addition, as we can now offer area dairy farmers better digestible feed that also comes from local farms," Michael said.
Educating Consumers
When asked about what challenges he's noticed in agriculture, Michael said that the biggest is how "...consumers are now two to three generations removed from a farm. There's a disconnect about where food comes from and what it takes to produce safe, reliable, and affordable food". Howlett Farms works to educate local communities and consumers about the realities of our food supply chain. For example, the war in Ukraine has shown a considerable impact on production costs which has led to higher consumer prices. Many consumers only see prices in the store or at the pump, but they don't realize that, according to Michael, "We have not even begun to see the actual impacts from this war. While some pricing has responded to future projections, the real physical shortages won't occur for some time and pricing will only increase from there."

Being embedded in the supply chain during this uneasy time, as both a producer and a consumer has changed the Howlett's mentality when it comes to fuel, extra parts, and supplies. "It's definitely made a difference as we've gone from getting it just in time, to having it just in case". As the supply chain becomes more personal for consumers, Michael hopes to "...see an increased sense of needing local, reliable, and affordable food. A shift in the dynamic from a world food supply to a local one is something Howlett Farms and all farmers will be keeping a close eye on for some time.

When asked about the length of membership in New York Farm Bureau and how it has benefited their business, Michael says, "As far back as the beginning our biggest benefit is the assurance that despite operating on our own terms, we're not alone fighting the day-to-day we all deal with. We're given the ability to learn from and contribute to different opportunities within agriculture that we otherwise might not know about.
Farm Bureau is about being part of a group of individuals who care deeply about agriculture and are willing fight for its future. That group is important, because if we don't fight for agriculture, who will?".
Keeping Employees Involved
Michael also explains that Howlett Farms sponsors a Farm Bureau membership for all 49 of their employees through NYFB's Stakeholder program, which allows NYFB farm owners the ability to purchase membership for their employees. "This allows our employees to be up to date on legislative changes within agriculture that could affect them. It also offers them the opportunity to have a voice through e-lobbying and feel supported within the agricultural community. We want them to know they are part of something bigger".
Overall, Howlett Farms has had a significant effect on consumer education and the way local farmers get their grain and other products to market. They have streamlined the supply chain, cutting out inefficiencies and making marketing of said products easier and more profitable for farmers.
When discussing the future of their business, Michael says "We want to continue to consolidate the supply chain and shorten the distance between producers and end users. Farmers have nowhere to pass cost increases, so the tighter we can make the supply chain, the less waste we see throughout it". Michael hopes that the final outcome of this process is increased producer-consumer connection and most importantly, more money for farmers to expand their operations and extend their legacies.
Caption 1: Michael, left, and Bruce Howlett.
Caption 2: End products like cornmeal and mixed feed are delivered to other feed mills for inclusion in their mixes or directly delivered to dairy farms.