Tin Barn Brewery Opens Second Location in Finger Lakes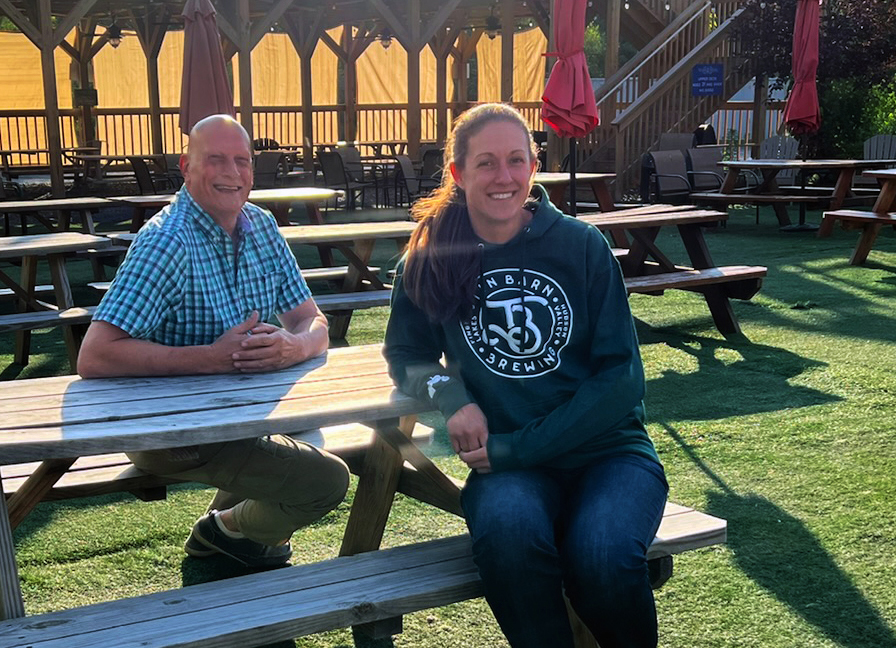 Manager & Training Specialist
County Farm Bureau Relations & Development
Acclaimed Tin Barn Brewery opened its second location in Yates County on Memorial Day Weekend to a big fanfare. Owners Lauren and Dale VanPamelen purchased the former Starkey's Lookout Winery earlier this year to expand their presence in the Finger Lakes Region. They are the third downstate brewery to open in the Finger Lakes behind New York City's Other Half and Big aLICe Brewing.

Lauren was previously an optician and Dale a businessman in downstate New York. Lauren described her first venture into craft beer, "One day I brought a home brew kit home, and Dale was making fun of me because you can't make good beer in the kitchen, but I started with home brewing and the first home brew beer I made came out really well. Home brewing is really like a bug, because once you get into it and you start to learn the craft beer world, it's the only thing you want to do."

Dale started home brewing with Lauren, and they started traveling around to several breweries to check out their spaces and found that brewers are the friendliest people you will ever meet. They began discussions about the possibility of opening a brewery to showcase their talents for making beer. Lauren enrolled in the American Brewer's Guild in Vermont to hone her skills and later volunteered at other breweries to learn everything she needed to know from the ground up.
NYC Business Roots
Dale purchased his first business fresh out of college. Dale said, "I just started out in Jamaica Queens with a donut/coffee shop right across from the Long Island Railroad station."
Eventually, he started buying businesses, trading up including a couple of restaurants and finally a dog hotel with three locations in Manhattan. Dale commented, "The trip from Long Island to New York City got to be pretty hard. Some people came to me and asked me if I was selling. I sold the business and that's when Lauren came up with the idea, lets open a brewery. You see so many of these breweries and you just want to be a part of it. We found a building that was perfect for us. The facility we have in Chester, will easily brew enough beer for two locations." Lauren did extensive research on brewery buildings. "I was reading an article on the top ten reasons why a metal building is the best for a brewery," Lauren said.

During her daily hour and a half commute she would mull over different brewery names. Lauren continued, "I would come up with these brewery names and try to talk in my head as if I were a customer and how it sounded. After reading that article I should build a big tin barn, OK, Tin Barn Brewing. I liked how the name sounded."
IPAs and Fruited Sours
Lauren brews primarily New England Style IPA's. Lauren said, "I'm a very biased brewer in the fact that I brew what I like to drink. I love New England IPA's and fruited sours. Fruited sours are where definitely I get to play a little more although I like playing with my hops and experimenting anything that's new. You will see me release two to three new beers a week. It's always rotating and always changing. I try to make better and better beer and I can play and try out new ingredients and new methods and new hops.
There are all these new releases and the craft beer customer loves that too. They always want to try what's freshest. We also have easy drinking beer. I just made my first lager after a year, just because during the summer you need something more crushable. During the winter, I will make a few more stouts." Lauren also is beginning a barrel aged program and hopes to secure wine and bourbon barrels from the Finger Lakes Region.

She says her influences on brewing primarily came from Charlton, Mass.-based Tree House Brewing, one of the top craft brewers in the country. When she started drinking craft beer, she primarily drank stouts. Lauren commented, "I went to Tree House Brewing looking for one of their stouts, but they were sold out. They talked me into trying one of their IPA's. They handed me a sample cup of Haze and I thought I was being polite trying this. I had tried many IPAs, but I just wasn't into it yet. It literally changed my world. I had never tasted anything like that. It was insane, the flavor you can make in some of these IPA's. Tree House literally changed my life.

Speaking about the Cornell Hop Breeding program that Farm Bureau secured funding for in the NYS Budget, Lauren said, "Cornell has a very impressive hop breeding program. I'm very excited to see what they come up with and what they're able to grow or cultivate in that program. I am very excited to see what Cornell comes up with."

Dale came upon the Finger Lakes location when he was browsing, LoopNet, a commercial real estate app. Dale said, "We weren't really looking for a second location. I happened upon this building. It is so stunningly beautiful, the property is so stunningly beautiful, and the view is so stunningly beautiful. I showed it to Lauren, and I said, here is our second location." After viewing the property later that year, they were sold on purchasing it.

The Orange County brewery has a fifteen-barrel system, which can brew enough beer for both locations. Lauren plans to increase production of her sour beers and age some of them in barrels, sourcing many of them in the Finger Lakes Region. Dale concluded the interview by saying, "As a father, you try and help guide your children, but they end up what they want to do anyway. I think this girl has found her place.
Photo caption: Dale and Lauren VanPamelen at their second brewery location in Yates County.
For more on Tin Barn Brewery, check out the latest edition of NYFB's News Bytes Podcast.