LIFB, Ag Partners Host Gov. Hochul on First Leg of New York Farm Tour
Second Session Held in Southern Tier with Agriculture, Education Leaders
By Rob Carpenter
Long Island Farm Bureau Administrative Director
Long Island Farm Bureau and its agricultural partners on Long Island hosted Gov. Kathy Hochul for the first stop on her recently announced farm tour throughout New York. The governor started her day with a visit to Lenny Bruno Farms in Manorville. The Bruno family produces vegetables but specializes in tomatoes for their local clients as their signature crop.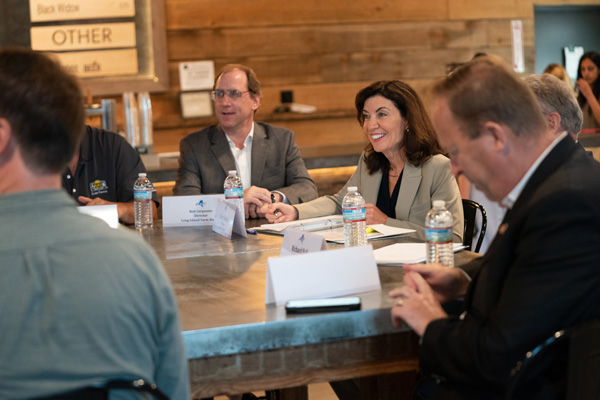 After a tour of the farm stand and learning about the history of the family and their evolution to today's operations, it was on to the next stop, Long Island Farm Brewery where Long Island Farm Bureau and our local ag partners, including Cooperative Extension, East End Food Institute, Farm Credit East, the NYS Brewers Guild, Soil and Water District, and our wine industry representatives just to name a few, hosted a roundtable panel discussion on agriculture and the needs of our farming industry.

While time was limited, various topics were covered including labor, workforce housing, extended producer responsibility legislation, and state budget items.

After the roundtable, the governor announced in a press conference funding statewide in the amount of $38 million for farmland preservation and specific to Long Island the purchase of development rights on a farm in Wading River in conjunction with the Peconic Land Trust to preserve farmland that was scheduled to be developed.

The complicated transaction involved state funding of $5.6 million, a reduction of the selling price by the owners, as well as money invested by the Condzella family and the Peconic Land Trust. With over 20,000 acres of farmland preserved on Long Island, the area is now two-thirds of the way towards the original goal of 30,000 acres necessary to maintain a viable land base of agriculture that was set as an original goal in the 1970 Nassau-Suffolk Comprehensive Plan Summary.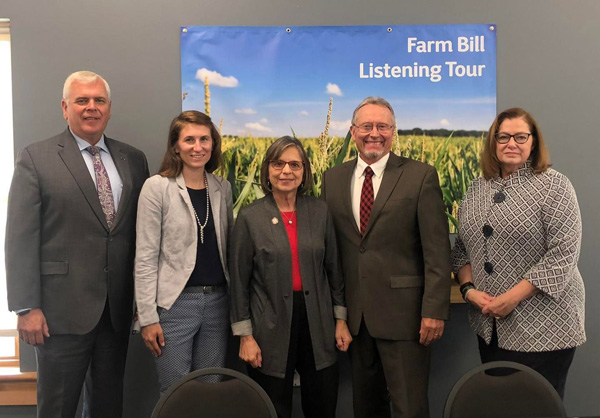 After the event was concluded NYS Department of Agriculture Commissioner Richard Ball, Department of Health and Farm Bureau representatives held the first listening session on the 2023 Farm Bill reauthorization.

Comments provided to the Commissioner included topics concerning support of specialty crops, additional help to encourage local processing of crops, nutrition assistance for the underserved population, and more clarity and understanding in the development of urban agriculture. The Commissioner was grateful for all the feedback and participation and mentioned he was looking forward to more comments in future listening sessions.

Cutlines:
Top photo - Rob Carpenter, Long Island Farm Bureau Administrative Director, participates in a roundtable panel discussion with Gov. Hochul. (Photo by NYS Governor's Office)
Bottom photo - The second session of the state-wide farm listening tour was held Binghamton, on July 25. From left, Assemblyman Joe Angelino, NYFB Senior Associate Director of National Affairs Lauren Williams, Assemblywoman Donna Lupardo, Agriculture and Markets Commissioner Richard Ball, and New York State Education Department Assistant Commissioner Kathleen R. DeCataldo were part of a round-table discussion at Cornell Cooperative Extension Broome County. The purpose of this event was to engage with and hear from constituents about the importance of the 2023 Farm Bill. (Photo by Jola SzubielskI/NYSDAM)