NYFB's Long Island Tour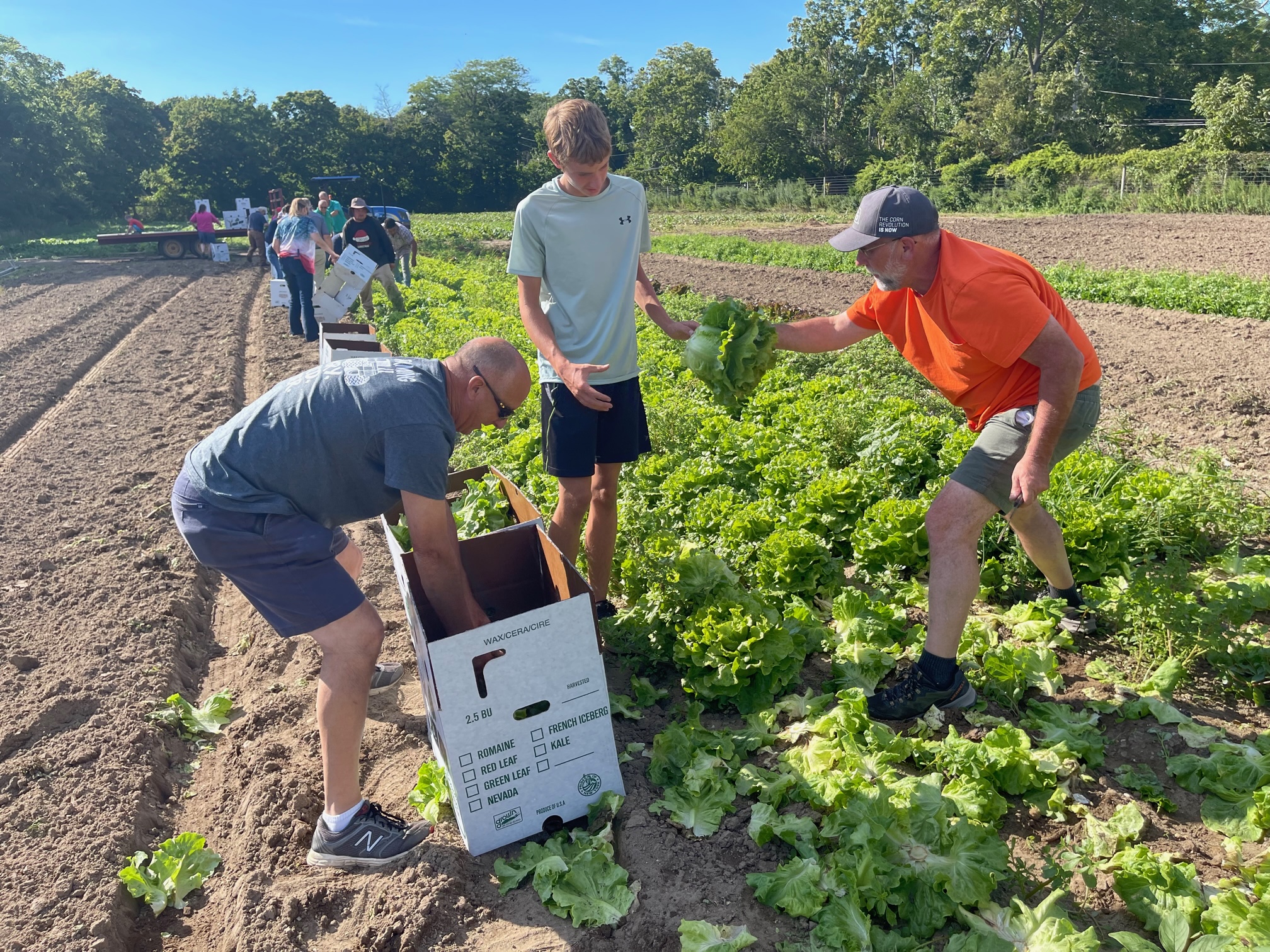 New York Farm Bureau's State Board Gives Back on Long Island During A Harvest Donation Event and Hosts Legislative Reception in New York City
The events coincided with the organization's tour of Long Island agriculture
New York Farm Bureau wrapped up a busy week on Long Island and New York City that kicked off with a food donation event that supplied about 10-thousand pounds of fresh produce to the Island Harvest Food Bank.
NYFB's state board and staff along with members of Long Island Farm Bureau gathered at Deer Run Farm in Brookhaven, NY on Monday, August 15 to pick fresh green lettuce and kale. They filled more than two dozen boxes that were loaded on to a regional food bank truck along with potatoes, tomatoes and more from Deer Run, Wickham's Fruit Farm, and other area farms.
It was a great opportunity to continue to give back through the partnership with the regional food bank on Long Island that spans more than two decades along with Long Island Cares.
"Our farms have a long history of supporting Island Harvest and Feeding New York State. New York Farm Bureau makes it a priority to give back to our communities to make sure everyone can put fresh, local food on their dinner tables," said David Fisher, New York Farm Bureau President.
"We have some of the wealthiest zip codes in the country on Long Island, but truth is there are hundreds of thousands of people living with food insecurity on Long Island. So, the wholesome food we get from farmers here really makes a big difference for so many people who otherwise would not know about eating this healthy produce, so we are grateful for this relationship," said Randi Shubin Dresner, President and CEO of Island Harvest Food Bank.
In addition to the donation event, the New York Farm Bureau Board of Directors toured farms on the east end of Long Island. They were able to see the true diversity of agriculture in this part of the state.
Long Island is home to more than 500 farms on around 30,000 acres. This includes fruit and vegetable farms, nursery and greenhouse operations, equine and sod farms, aquaculture, as well as wineries and craft beverage makers.

The directors were grateful for the time and effort put into organizing the tour and appreciate Long Island Farm Bureau and its members for the work that they do. All of these experiences helped prepare the New York Farm Bureau state board for the legislative reception it held Thursday, August 18 in conjunction with the Queens County Farm Museum, a historic working farm and educational center celebrating its 325th anniversary this year.
Policymakers from New York City attended the reception that included farmers sharing food and beverages that they produce. This provided a great opportunity to have discussions about the challenges and opportunities facing farming in New York and the future of agriculture in the state.
Some of the attendees included State Senator Leroy Comrie, Assembly Members Catalina Cruz, Michaelle Solages, Jessica Gonzales-Rojas, David Weprin and staff from Senator Kevin Thomas' office. There were also NYC City Council Members, Mayor Adams' food policy staff as well as representatives from New York State Agriculture and Markets and Environmental Protection Agency Region Two in attendance.
In addition, two agriculture teachers from John Bowne High School were recognized by Long Island Farm Bureau President Bill Zalakar and members of the New York State Legislature for being named regional agriculture educators of the year through Nationwide Insurance's Golden Owl Award program. John Bowne High School has the largest FFA program in the state and two students attended the event as well.
This was the second year of this unique reception to better connect farmers with urban lawmakers and their constituencies. Queens County Farm Museum's Executive Director Jennifer Walden Weprin and her staff were instrumental in helping to make this event happen. She and President Fisher thanked the attendees and the farmers for coming and stressed the importance of the connections being made.
"Relationships matter. The more we get to know each other and what is important to each of us, the more we can work together to support each other's needs and communities," said Fisher.