Raising a Glass to NYS Craft Brew Winners
NYFB Content Creator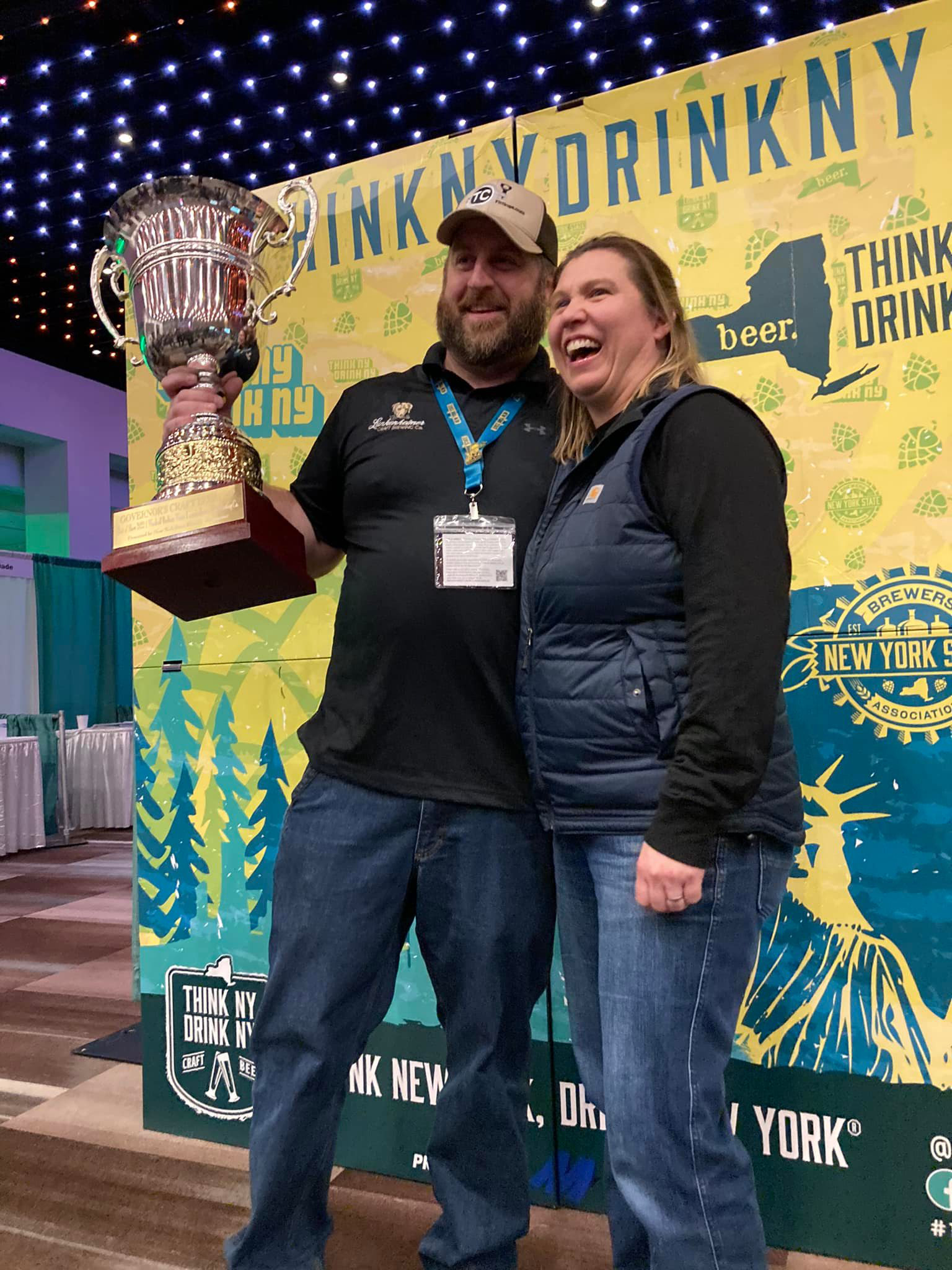 Announced to a standing ovation, Derric and Kristen Slocum of Lunkenheimer Craft Brewing Co. in Weedsport, NY took the stage this past April to receive the Governor's Excelsior Craft Beer Cup after their Woodruff Berliner Style Weisse Beer was named the best beer in New York State.

The 2022 New York Craft Beer Competition held in Albany has grown to become the largest state-level competition in the U.S. Open to all 480+ craft breweries in the state, NYCBC received more than 1,200 entries this year and were was judged by industry professionals.

"It's exciting, we're still trying to wrap our heads around it," Derric said. "The governor's cup is always a surprise and the fact that we won it was just a complete shock."

The traditional German Weisse beer dates back to the fifteen hundreds and typically has around 3% alcohol with a slightly sour taste. The addition of a simple raspberry syrup gives this beer its distinctly unique flavor profile.

The state has seen an upsurge in new craft beverage establishments and for the first time in 50 years, the number of NY breweries surpassed the number of NY wineries. A monumental 420 percent increase since 2012 according to the liquor authority.

Thanks to the relaxing of distribution and regulations for breweries, distilleries and cider makers, in New York State, beverage makers began direct-to-consumer sales of beer by the glass. With new laws expediting provisional operating licenses for the manufacture and sales of alcoholic beverages recently signed, New York's easing of Prohibition-era alcohol regulations continues.

Permits are now being processed and approved in around 30 days compared to legacy procedures that averaged nearly six months.
"New York's craft beverage industry is not only a source of local pride, but also creates jobs and drives tourism in every corner of the state," New York Governor Kathy Hochul said. "These fast-tracked permits will allow new businesses to hit the ground running by opening quickly and making immediate contributions to their local economies."

Lunkenheimer Craft Brewing Co shared the Governor's Cup with fellow Finger Lakes Region brewer Wood Kettle Brewing of Hilton, NY which Slocum says is, "Putting us on the map, as a destination. They know they can come here, and they can find good beer."
With some of the country's most beautiful scenery, an amazing farm-to-table food landscape and a multitude of distilleries, cideries, wineries, and breweries the craft beverage scene in the upstate region is abundant, diverse, and extraordinary.