Tompkins County Farm Bureau Hosts First Annual 5K for Milk Donations
Manager, NYFB County Farm Bureau Relations and Development
In a new twist on the Ten Gallon Challenge, the Tompkins County Farm Bureau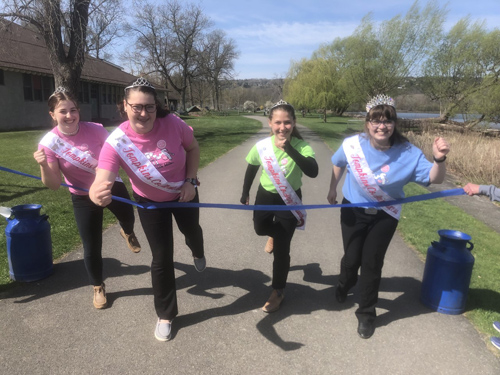 recently hosted their first ever 5K Fun Run (or walk) to raise money for the purchase of milk for the food pantries of Tompkins County. Around 75 runners/walkers descended on beautiful Stewart Park in Ithaca to traverse the 5K course that ran from the park along the lakeside to, appropriately, the Ithaca Farm Market, and back.

The race, which came together rather quickly, was able raise almost $2,300 for those milk purchases. All the money will be funneled through the dedicated milk fund the county Farm Bureau set-up a few years ago at the Food Bank of the Southern Tier, exclusively for the pantries in the county. Also, appropriately, the Tompkins County Dairy Ambassador Team was on hand to hand out chocolate milk to all the runners, volunteers, and spectators.

Though not an official timed race this year, the event will hopefully become an official race starting in 2023.

County President Kate Cole worked with the Finger Lakes Running Club on getting race bibs, setting up the course, and helping get the word out. Young Farmer co-chair Tyler Beck (and avid runner) helped out with the logistics and the course, and also participated in the race.

Many people had a hand in this event being successful right out of the gate. Jacquie Lunser Hodges of the Lunser Agency and a great Nationwide Insurance partner sponsored the prizes for the runners. The Cornell Farm Bureau Chapter and the national agriculture fraternity Alpha Gamma Rho helped on race day and promote the event. And, of course, the support and help of the Tompkins County FB Board of Directors was instrumental in getting this off the ground. Congratulations to all, and we look forward to a bigger event next year and the continued promotion of our dairy industry.
Photo caption: From left, Addie Clore (Junior Dairy Ambassador), Abigail Gunning (Alternate Dairy Ambassador), Alley French (Alternate Dairy Ambassador), Abigail Thomas (Dairy Ambassador) volunteered their time at the event.